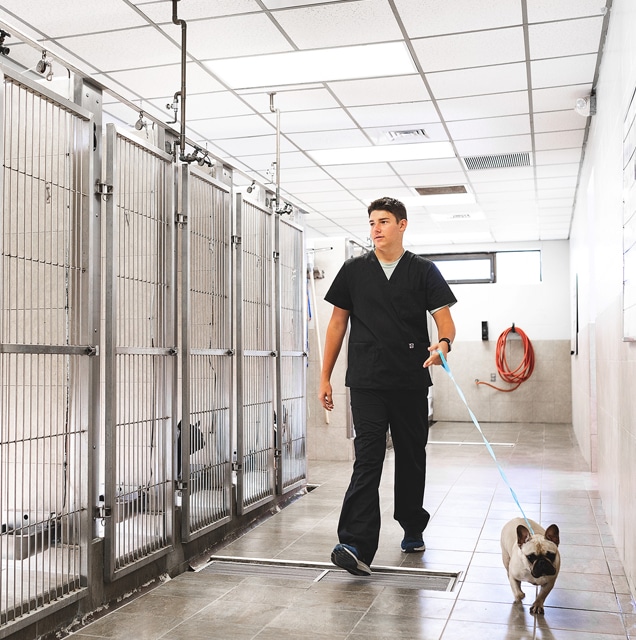 Drop-off and Pick-up:
Monday through Friday: 7am to ­5pm
Saturday: 8am to ­2pm  Sunday Pickup Only: 4pm to 5:30pm 
Cleveland Heights Animal Hospital offers the perfect balance of comfort and care for your pet while you are away. Whether a cat or dog, your furry friend will enjoy top-notch accommodations with cozy bedding, daily housekeeping, and lots of TLC, all within a Veterinarian-supervised facility. We have a variety of lodging options to suit any need, so be sure to tour our Cottages, Sunshine Suites, Tiny Town, and Cat's Inn Condos. A visit to the pet spa while staying with us is always a nice treat for both you and your pet! Be sure to schedule an appointment and visit our pet spa page to learn more about our salon services. You can travel peacefully knowing your pets will surely feel at home during their stay with us at Cleveland Heights Animal Hospital.
Frequently Asked Questions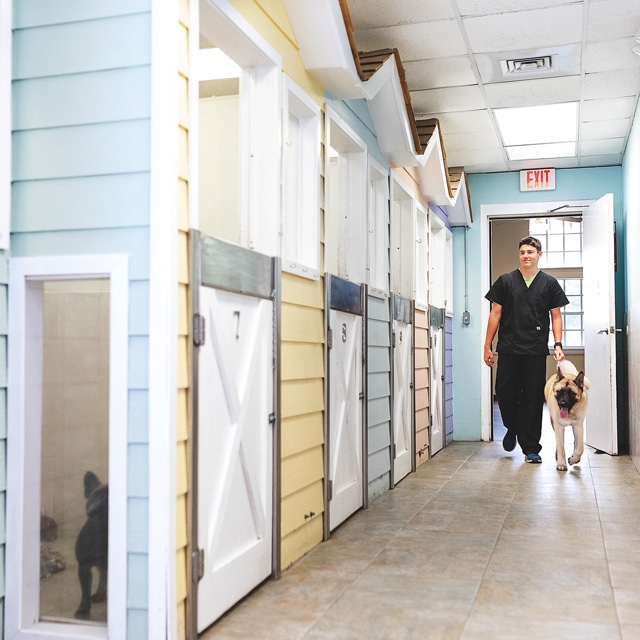 Home away from home, our Cottages have raised beds, cozy bedding, tiled floors, automatic watering systems, and televisions featuring animal-themed entertainment. Your pets will enjoy daily housekeeping and personalized care during their stay with us.
• Approximately 30sq ft
Sunshine Suites:
With a door to an outside run, our indoor-outdoor Sunshine Suites allow us to bring the beautiful Florida sunshine in during your pet's stay with us. Ideal for those pups who like to easily control their environment, our Sunshine Suites allow pets to go inside or out completely at their own leisure (weather permitting).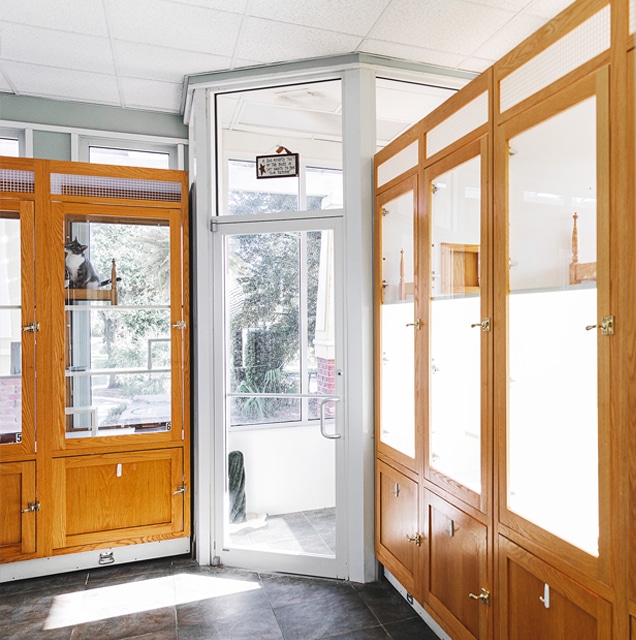 Our multi-tiered Cat Condos offer specialized feline lodging, with plush bedding, hand-made four-poster beds, and panoramic outdoor window views. Even the kitty facilities are separate from the living space and well ventilated. Additional play time is offered in our play tower, which is fully enclosed in floor to ceiling glass and offers outdoor views of birds and trees to boot.
Resort Amenities:
We also offer additional services which will make your pets' stay with us even more enjoyable. Think of it as a vacation for them while you are away!
Amenities:
There is no better way to spoil your pets than with a one of our many amenities while you are gone. From laser tag for your kitty or love and fluff for your dog they will receive individual attention.