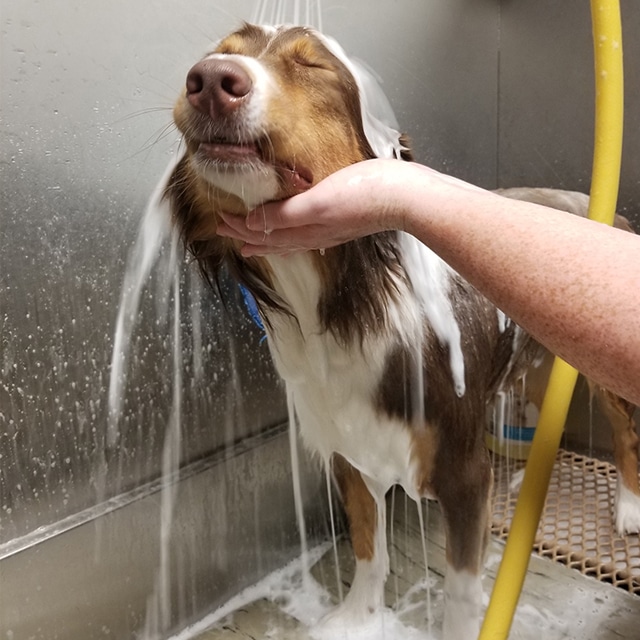 Our expert bathers take their time and make your pet look and feel great. They make even the most fearful pets enjoy bath time. Their attention to detail is unmatched. If your pet is lodging with us and you request a bath prior to going home or you need to drop it off due to a romp in the mud we are happy to accommodate you and your furry friend.
A typical bath includes:
• Bath in our stainless steel ergonomic tubs
• Detergent free shampoo
• 15 minute warm hydro-massage
• Thorough cleaning of both ears
• Pedicure
• Hand blow dry with cool air high intensity dryers
• Brush out
• Bandanas
• Specialty pet cologne (unless owner requests leaving out)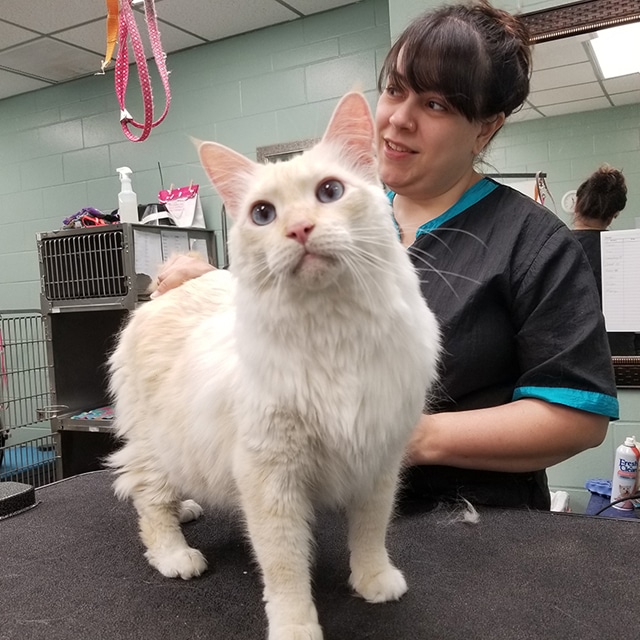 Love your cat and hate the hair?
Professional feline grooming is offered here at Cleveland Heights Animal Hospital. Our feline friends are bathed in a different area than our canine companions. When it comes to care and grooming, it is important to consider the difference between felines and canines. Felines have their own very unique needs which demand special considerations. We recognize this and take care to provide them with utmost quiet during their grooming experience.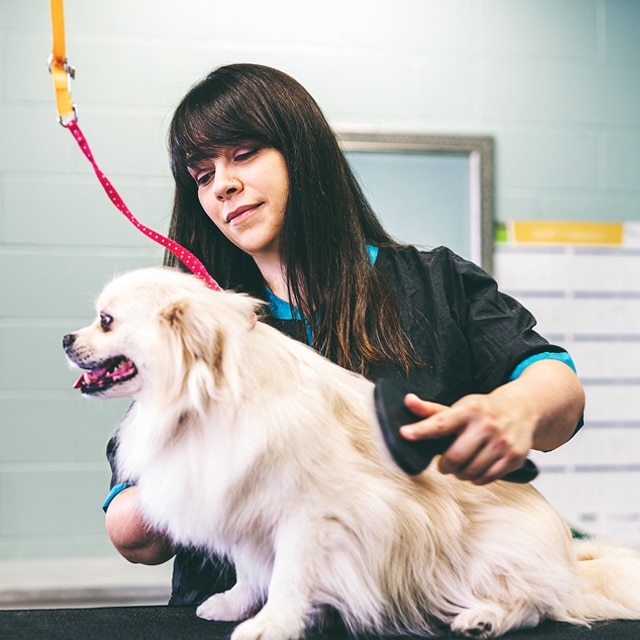 Our canine guests are bathed in our stainless steel tubs that are specifically designed with high side walls to prevent jumping or falling. The ergonomic design provides a ramp for easy entry for our large canine companions.
Every one of our ergonomic tubs are equipped with a hydrosurge system. This unique system provides a combing action flow of water through a hand held massage sprayer. An invigorating jet action that removes loose hair, dead skin and other debris.
The advantages of our hydrosurge:
• Increased blood circulation
• Soothing sensation
• Thorough cleansing and a relaxing massage
What your canine companion can expect:
• Detergent free shampoo
• 15 minute warm hydro-massage
• Hand blow dry with cool air high intensity dryers
• Warm air drying by stylist to fluff and shape
• Clip and style based on owner's request
• Thorough cleaning of both ears
• Pedicure
• Bows or bandanas
• Specialty pet cologne (unless owner requests leaving out)